Tokens by Black
Total visits: 3627 This week: 10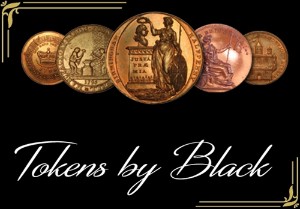 Additional Information

I believe that the 18th Century British Provincial Conder Tokens are not only artistically beautiful and historically relevant but should be shared and preserved for future generations. As with all new ventures there is a learning curve and this website has proven to be no exception. This site is intended to be token-user friendly so if you notice a glitch or an error pops up please let me know. I appreciate feedback so if you have any suggestions or features you'd like to see incorporated in to the site, also drop me a line. I want this website to not only offer tokens for sale but to become an educational resource for collectors. Having said that please take a look at the new Dalton & Hamer reference book hot off the presses. It is located in the Fun Stuff category.

Show Schedule



© 2007 - 2023 CoinZip.com - all rights reserved.