Private Coin Buyers
Total visits: 1386 This week: 2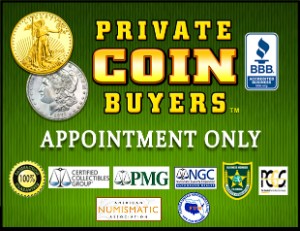 Additional Information

Private Coin Buyers Specializes in Buying Coin Collections, Estates, Gold Coins, Silver Coins, Rare Coins, Certified Coins, Paper Money, and Bullion. Private Coin Buyers are authorized dealers and members of NGC, PCGS, ANA, NCS, Fl Sheriff Association and are an accredited business of the Better Business Bureau.

Show Schedule



© 2007 - 2023 CoinZip.com - all rights reserved.