Z-man's Rare Coins
Total visits: 2249 This week: 7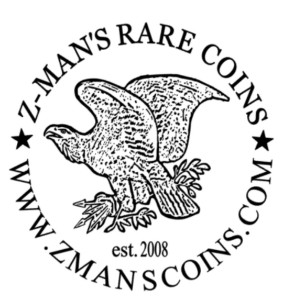 John Andrew Zieman Jr.
106 St. George Street , Suite
St. Augustine, FL 32084
(352)232-2391
Dealer # 7044


Additional Information

Coin Shop in the heart of St. Augustine Florida. Alexandrea is a former grader for NGC (2 1/2 years) and a former Numistmatist at Heritage Auction's (6+ months). If your looking for help buying or selling coins, this is the place to go. If your looking to have coins graded, Alex is an Authorized Dealer with NGC/PMG so she can help. Please stop by and take a look at what she carries including Coins, Gold, Silver, Currency, Shipwreck Coins, Coin Supplies, and many more things...

Show Schedule



© 2007 - 2023 CoinZip.com - all rights reserved.