Story time - Back in 2002
Author: Dan Lewis - Tuesday October 09, 2018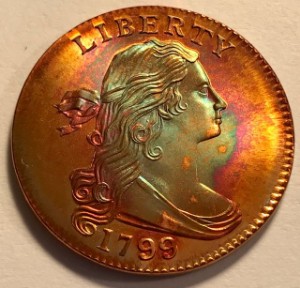 The first of ten years that I attended two weeks of ANA Summer Seminar, one of the very interesting evening events was a gathering in the breezeway between the dormitories at Colorado College. Liquid libations flowed freely and Joe Rust and Ron Landis of Gallery Mint fame would put on an impromptu concert.
At the time, Mike Ellis worked for the Gallery Mint, and always had a bunch of replicas handy for sale. I remember that as the evening wore on and Mike got "happier," the prices of the replicas kept getting more and more attractive. It was under these conditions that I became the proud owner of somewhere between 100 and 200 early American copper replicas. Over the years, I have sold many of them, but still have a few left in their original flips and some of the ones I still have left have developed some crazy toning, which brings me to the culmination of my tale. I just got this 1799 Draped Bust Cent back because the buyer "just could not live with the color."
© 2007 - 2021 CoinZip.com - all rights reserved.