Notorious Dalton Gang and the Banknotes They Robbed
Author: Steven Carr - Tuesday October 09, 2018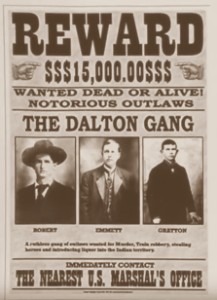 Steven Carr, Researcher, David Lisot, Video Producer, CoinTelevision.com.
The Daltons were three brothers who were an unsavory lot who robbed banks in the 1890's in Kansas. They wanted their exploits to rival their hero Jesse James resulting in some outrageous crimes. Hear this well-researched presentation from researcher Steve Carr complete with pictures from the time period and banknotes they could have robbed.
© 2007 - 2021 CoinZip.com - all rights reserved.