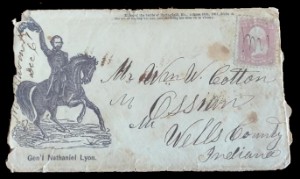 I have always been a Civil War buff. My collecting interest is very strong for anything Wells County / Ossian / Bluffton Indiana of that era, as that is where I grew up.
Here is one relic that has always been special to me. I was moving things the other day and it just struck me as it always does. A letter written from 34th IN Pvt. Sylvester Cotton of Ossian Indiana, to his brother. I purchased this on eBay for an insignificant sum a few years ago. I never grasped the full oddity of it until now.
Digging into the history of this item unravels a a bizzare mystery. The jist of the letter is Sylvester wishing to connect with his brother who he hasn't heard from in a while. He is sending him some paper and something to write with. He is concerned that the hardships of war have limited his brothers writing supplies.
Ready for the chills?
William W. Cotton, the oldest of 10 children died in 1852......9 years before the date on this letter at the age of 40.
Perhaps the records are wrong. I checked multiple sources. Not enough..Maybe?... If the dates from ancestry records are wrong maybe William was still alive in 1861. Then again, maybe he wasn't.
Maybe they had become estranged. It seems odd to me that Sylvester would have never attempted to visit him sometime in years prior to the war. They lived in the same county. Even by horse it couldn't have been that far. But who knows. We have telephones now, and internet, and Facebook. We know where everyone is, and we know how to reach them. And when we don't....we send out search parties and Amber alerts. Back then? When work had to be done by day, and gas street lights and actual roads were still far from a given....especially in rural IN. Maybe William's wife left after the death without sending word. She was said to have lived past the turn of the 20th century. I don't know. I am stumped.
All that can be known from this letter is that in early December, before Sylvester went off to serve a very long 4 years in the Civil War, he was thinking of his older brother whom he hadn't heard an answer from "For some time". I wonder what he knew....or didn't know.
To be continued I hope...