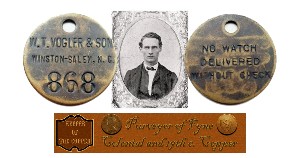 noun – /noun/ – The part of speech that names a person, place or thing
The study of tokens is necessarily the study of nouns…
First, the THING
A morning of brisk trading took place at our last CARTS meeting. I swapped tokens with a few regular members and came away with a curious round brass watch check that screamed for further research. The item in question was approximately 34 millimeters in diameter and simply read: W.T. VOGLER & SON/WINSTON-SALEM, N.C./868 and the reverse: NO WATCH/DELIVERED/WITHOUT CHECK. All lettering on both sides was incuse. At top center (12:00) position was a hole, as manufactured.
Next I wanted to explore the relevant PEOPLE
John Vogler was a well-known gunsmith and watchmaker in Old Salem. His house still stands in the historic district along the row of Moravian dwellings. A nephew, William Theodore, born in 1843, picked up the jewelry trade learning by his uncle's side. William (W.T.) also grew to develop an interest in architecture, something that had rubbed off from John's son, Elias.
While in school at Salem Boys School, young William showed dedication and competence working with his hands, something that would continue to serve him in the future as he developed as a watchmaker. After serving in the Civil War, he returned home to marry Johanna Catherine Mack, daughter of Moravian missionaries to the Cherokee people. They wed in 1867 and soon thereafter William took over the jewelry business that his uncle had started.
Through business directories we have a documented record of W.T. Vogler in business as a jeweler from 1872 until his death in 1926. The Vogler name carried on in the jewelry industry for another three decades or so through his eldest son Henry (the unnamed 'son' referred to on the watch check that started my quest)
In his lifetime W.T. was known for standing behind the fine products he manufactured. Known for quality merchandise, he saw great financial success in the business world and was an early investor in the Wachovia Bank. A single term in local politics even briefly placed him as Town Commissioner of Salem.
Now for the PLACES
Of course we already know of the importance the Vogler name held for Old Salem, but alas there was to be another destination on which William Vogler laid his indelible mark. Given his passion for architecture dating back to his youth, it was only natural that he get onboard when a few wealthy families from Elkin, Salem and Winston decided to develop a 'mountain retreat' in Alleghany County.
The year was 1893 and the first structure to go up in Roaring Gap was the Roaring Gap Hotel. The following year William purchased the parcel of land on which he would eventually build, however it wasn't until 1908 that construction began. The eager Vogler family was finally ready to enjoy their mountain cottage in the summer of 1909.
The home stands on the eastern ridge of the mountain and overlooks the Yadkin River Valley. The name 'Roaring Gap' comes from the manner in which the wind would seem to rush through the valley with the force of a runaway locomotive. The Voglers loved their western escape from Salem and spent much time there. The family's importance to the community of Roaring Gap is still seen today as the cottage they finished construction on over a century ago has finally earned inclusion on the National Register of Historic Places.
photo of W.T. Vogler from the Digital Forsyth website*