Auctions by Wallace
Total visits: 3661 This week: 7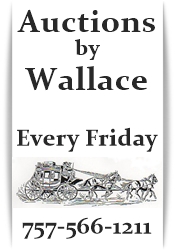 Additional Information

Virginia's Leading Coins and Currency Auction

Auctions by Wallace is a full service auction company. We specialize in auctioning coins weekly, Guns monthly and estates. We guarantee our coins to be authentic. We will ship internationally and automatically combine lots.

We accept VISA, MC, Discover, and American Express

Call us today 757-566-1211

Show Schedule



© 2007 - 2023 CoinZip.com - all rights reserved.