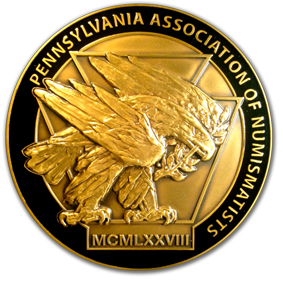 Hello Friends of the Pennsylvania Association of Numismatists,

It is the time of year that we receive donations from many of our members. This time we have a couple of good incentives to offer. A $100 donation to P.A.N. includes a Sweepstakes Ticket with four chances to win $10,000. There are only 250 tickets issued so the odds are pretty good.
We still have some of the 1989 ANA Convention Medal Badges left that were designed by John Mercanti. We are offering them with the hand signed insert also.
We will send you both items if you are able to make a $100 donation to PAN. We are a nonprofit so you may be able to receive a tax deduction. Please consult your tax preparer.
You can donate on our website by clicking the incentive offer on our home page:
Or mail a check to:
PAN
75 East Maiden St
Suite 208
Washington PA 15301
All of our donations are used to promote numismatics. We are a volunteer association with no paid staff. Please consider PAN in your charitable giving list this year.
Our next PANeNEWS will be out in early December.
Thank you!