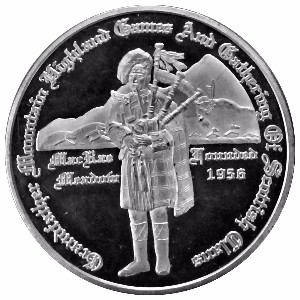 Here is an interesting medal that commemorates the annual Grandfather Mountain Highland Games & Gathering of Scottish Clans, a summer event now in its 61st year. The reverse of the 38mm medal, struck in .999 silver, honors Agnes MacRae Morton who co-founded the Highland Games and also donated the land on which the Games are held. Supposedly only 1,000 of the medals were produced but I have yet to find documentation to support this.

North Carolina has a long tradition of Scottish immigration. Many Scots came after the Battle of Culloden in 1746 enticed by generous land grants. I have written previously on the Presbyterian influence they brought, which can be studied through surviving Communion Tokens. Gaelic culture and ways are still on display each year as up to 120 clans make their pilgrimage to Linville, North Carolina.

Celebrated Tartan customs include: dancing, bagpipe music, drumming, traditional dress, and the always popular athletic feats. The Cabor Toss is most impressive to watch and requires unbelievable strength. Imagine, if you can, attempting to hoist and then throw end-over-end something nearing the size of a telephone pole!

Attendance of these Games needs to be included on the 'bucket list' of anyone reading this. All are welcome and the kilt is optional.